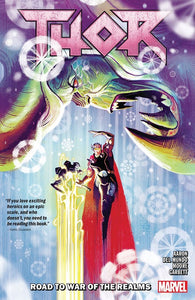 Thor Vol. 2: Road to War of Realms TP
£1499

£14.99
Tax included.
---
---
The stage is set for the War of the Realms! 
Thor has battled through Hel, but now finds himself a prisoner of the fearsome warriors of Heven! Can even the intervention of Valkyrie and Thor's deadly sister, Angela, help the Thunder God escape the inescapable prison of angels? Meanwhile, with S.H.I.E.L.D. gone, Roz Solomon has been left adrift—but she's about to take on a surprising new role…and make a million new enemies. For war is coming—and the invasion of Earth may have already begun! As Malekith targets all there is, will Odin be left as the All-Father of Nothing? Plus: Centuries ago, Odin was determined to keep a young Thor away from Midgard for good - and Loki knew just the way to do it!
Collecting THOR (2018) #7-11.