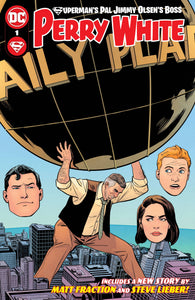 SUPERMANS PAL JIMMY OLSENS BOSS PERRY WHITE ONE SHOT
Perry White's long career in the papers deserves a big celebration, and who better to help than his favorite colleague? No, not Lois Lane. No, not Clark Kent...or that super-guy they all write about. It's Jimmy Olsen!
  
In a new 48-page one-shot comic, Superman's Pal Jimmy Olsen's Boss Perry White #1 (on sale June 21 with a Final Order Cutoff date of May 22), revisit the Daily Planet and read a new 7-page short story from the Eisner Award-winning Superman's Pal Jimmy Olsen team of Matt Fraction and Steve Lieber, then see Perry White's career throughout the years with reprinted stories by Elliot S. Maggin and Curt Swan, Neil Kleid and Dean Haspiel, and Brian Michael Bendis and Ivan Reis!

Superman's Pal Jimmy Olsen's Boss Perry White #1, featuring a new 7-page story by Matt Fraction, Steve Lieber, Nathan Fairbairn, and Clayton Cowles, plus three classic reprint stories, arrives June 21, with a cover price of $4.99 and a new cover (seen above) by Lieber and Fairbairn.