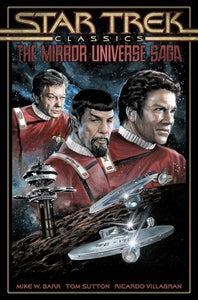 Star Trek Classics: The Mirror Universe Saga TP
£2299

£22.99
Tax included.
---
---
Picking up where Star Trek III: The Search for Spock left off, Admiral Kirk and the crew of the U.S.S. Enterprise face off with evil versions of themselves in the fan-favorite Mirror Universe!
Admiral Kirk and his crew must battle against a very familiar foe, as forces from the Empire have crossed an interdimensional breach to wreak havoc in Federation space. Deception and desperation unfold as the Empire tries to conquer another universe, and it will take all the experience of Kirk, Spock, and the crew of the Enterprise to fend off the coming invasion and save the Federation!
Originally published by DC Comics in Star Trek issues #9–15 from December 1984 to June 1985, this collection presents the fan-favorite Mirror Universe story for the first time in almost 30 years!