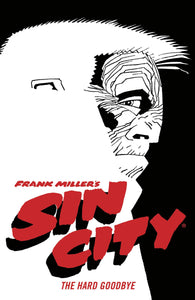 SIN CITY TP VOL 01 THE HARD GOODBYE (4TH ED)
£2299

£22.99
Tax included.
---
---
The acclaimed crime noir from comics legend Frank Miller is presented at original size with new wrap-around cover art.

Ex-con Marv has found an angel-a goddess named Goldie who has blessed this wretched low-life with a night of heaven. A few hours later, Goldie is dead. Whoever killed her . . . is going to pay. Marv's got a soul to send to hell, and it's going to get nasty.

o The deluxe hardcover edition includes a portfolio with an exclusive print, sketchbook with never-before-published development art, and a pinup gallery with art from Joyce Chin, Amanda Conner, Klaus Janson, Paul Pope, Philip Tan, and Gerardo Zaffino.

o Brand-new original cover art by Frank Miller!

o Over a million Sin City books in print!