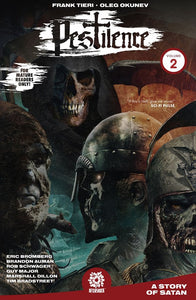 Pestilence Vol. 2: A Story of Satan TP
£1399

£13.99
Tax included.
---
---
The second volume of this hit AfterShock series starts here!
The year is 1353. The fugitive Roderick Helms has retreated to a life of hidden seclusion after failing to expose the Church's role in the Black Death. But something threatens to bring him back into action. Something that has risen which will threaten to transform the waning plague into a far more darker and sinister crisis. And that something is none other than Satan himself!
Written by the master of violence, gore, and mayhem, Frank Tieri (Harley Quinn, Marvel vs Capcom, Wolverine, Deadpool), with spectacular art from illustrator Oleg Okunev, and covers by Eisner Award-nominated artist Tim Bradstreet (The Punisher, Hellblazer)!