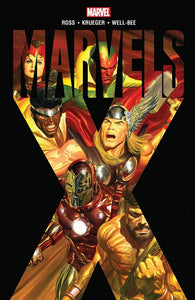 Marvels X TP
£1599

£15.99
Tax included.
---
---
THE AMAZING PREQUEL TO THE LEGENDARY EARTH X TRILOGY! 
David has a problem. He's the last normal human on Earth. He lives in a world of monsters that would love to devour him. And these monsters are his former neighbors — mutating, like the rest of the world, into something strange and frightening and new. David has one hope: to get to New York, where Captain America and the rest of the heroes are. But the big city doesn't bring the safety he hoped it would. And the heroes don't know how to cope with a world that's changing all around them. No matter what Spider-Man or Daredevil or even Doctor Strange do to protect him, they can't save David from what is hunting him!
Collecting MARVELS X #1-6.