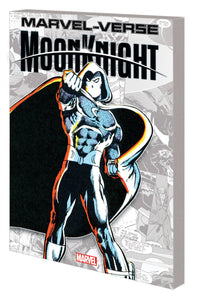 MARVEL-VERSE GN TP MOON KNIGHT
Moon Knight is one of the most mysterious heroes in the Marvel-Verse! Meet Marc Spector as a monster hunter, when the shadowy Committee hires him to track down the Werewolf by Night! Then join him juggling lives as a millionaire, a mercenary, a cab driver and a masked vigilante teaming with Daredevil in a battle against the Jester that's no laughing matter! But is Moon Knight really a bad guy? Find out alongside Spider-Man in a criminal competition played out by the gangs of New York! Then, when time-traveling Kang the Conqueror plots to settle an ancient grudge against the Egyptian god Khonshu, it's up to Khonshu's avatar, Moon Knight, to fix the broken timestream! Collecting WEREWOLF BY NIGHT (1972) #32-33, MOON KNIGHT (1980) #13, MOON KNIGHT ANNUAL (2019)
#1 and material from AMAZING SPIDER-MAN (1963) #220.