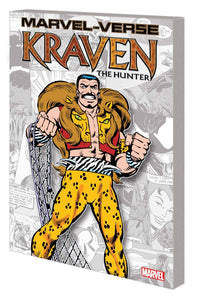 MARVEL-VERSE GN TP KRAVEN THE HUNTER
In the whole Marvel-Verse, nobody is as skilled a hunter as Kraven - and these are the tales that show how nobody is safe from his predatory prowess! Sergei Kravinoff and his family will prove more than a match for a trio of action-packed arachnid adventurers - Peter Parker, Gwen Stacy and Miles Morales! But it is Spider-Man who will prove to be Kraven's greatest rival - and his ultimate prey! Whether the Hunter is targeting Peter himself, or setting his sights on the winged menace known as the Vulture, you can guarantee that the ensuing Kraven/Spidey battle will be wild! But when Kraven switches his focus to Deadpool, the chaos will attract the attention of the Avengers! Collecting MARVEL ACTION SPIDER-MAN (2018) #5-6, MARVEL ADVENTURES SPIDER-MAN (2005) #7,
MARVEL ADVENTURES SUPER HEROES (2010) #4, SPIDEY (2015) #9.