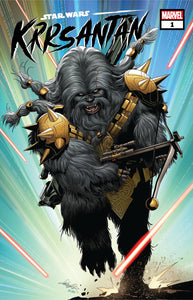 KRRSANTAN STAR WARS TALES #1
He thrilled audiences in The Book of Boba Fett - now experience the stories that made him a legend! The deadly Wookiee bounty hunter called Krrsantan is almost unstoppable, but you can get him on your side...for a price. On the desert world of Tatooine, witness Krrsantan hunt down Jedi-in-hiding Obi-Wan Kenobi in a tale set between Star Wars Episodes III & IV! Then, as the Rebel Alliance clashes with Darth Vader, get ready for the ultimate Wookiee fight. Who will be left standing when Krrsantan takes on Chewbacca?! Finally, learn Krrsantan's origins - from his years in the gladiator pits to an alliance with Doctor Aphra to serve up some well-deserved revenge! It's wall-to-wall Wookiee action as only Marvel can deliver!
Collecting STAR WARS (2015) #14-15 and #20 and STAR WARS: DOCTOR
APHRA ANNUAL #1.