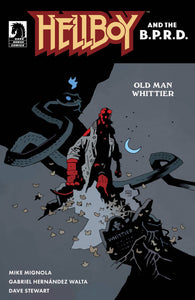 HELLBOY & BPRD OLD MAN WHITTIER ONE-SHOT CVR B MIGNOLA
Trouble runs in the Whittier family! When Catherine Whittier learns she's inherited the family home, she knows better than to go back alone, and Hellboy's experience with the family (in Hellboy: The Whittier Legacy) makes him the perfect one to make sure any unkind spirits are rest.  Because in a house with a history like this, "plot" can mean more than just a family graveyard.
Hellboy creator Mike Mignola is joined by artist Gabriel Hernández Walta to bring readers a terrifying new one-shot in the home of the infamous Whittier family!
o Self-contained story in the successful Hellboy and the B.P.R.D. line.  
"What I love about these little adventures is how Mignola is able to give us a full story that lives beyond the pages of the book itself."-Fanbase Press