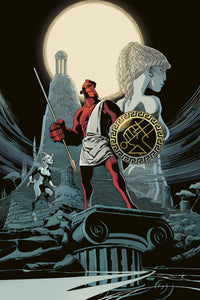 HELLBOY & BPRD NIGHT OF THE CYCLOPS ONE-SHOT CVR A
Just as he finishes up one job in Greece, Hellboy is detoured into another adventure by . . . a goat? Join Hellboy in a strange hidden land of treachery and togas as he takes on the wrath of a jealous god.

Featuring the storytelling genius of Mike Mignola and Olivier Vatine, with art by Vatine and letters by Clem Robins, the Mignolaverse meets classical mythology in this new one-shot!