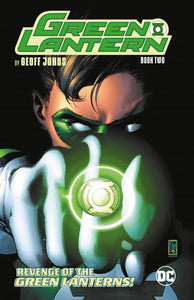 Green Lantern by Geoff Johns Book Two TP
£3499

£34.99
Tax included.
---
---
The greatest Green Lantern of them all is back!
Hal Jordan has been resurrected and redeemed. Now it's time for him to get on with his life as Green Lantern, protector of Space Sector 2814.
But even as he returns to the skies as an Air Force pilot, Jordan faces new threats from his old foes. The deadly Manhunter androids and the mutated Shark return with shocking violence, but they are nothing compared to what Hal will face when he takes on the Green Lantern Corps! Hal Jordan once left his fellow Lanterns for dead. Now, he's discovered that they're alive, and he'll do anything to rescue them from their horrible prison. But can they trust Jordan long enough to escape—or will their emotions lead them down a dangerous path?
Find out in GREEN LANTERN BY GEOFF JOHNS BOOK 2! These classic stories are written by comics legend GEOFF JOHNS and illustrated by talented artists including IVAN REIS (BRIGHTEST DAY), ETHAN VAN SCIVER (HAL JORDAN AND THE GREEN LANTERN CORPS), OCLAIR ALBERT (BLACKEST NIGHT) and PRENTIS ROLLINS (GREEN LANTERN CORPS). Collects GREEN LANTERN #4-20.