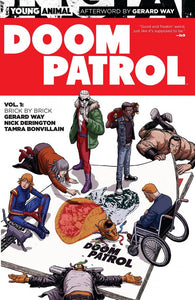 Doom Patrol Vol. 1: Brick By Brick TP
£1499

£14.99
Tax included.
---
---
Doom's day is upon you! The atoms are buzzing. Daydreams crowd sentient streets. Generation arsonists unite: this is DOOM PATROL, and the God of Superheroes is bleeding on the floor. 
Casey Brinke is a young EMT, working the graveyard shift and dealing with a past so bizarre, she's not sure what's real and what's make-believe. With her partner, Sam Reynolds, by her side, she's about to blaze a path through the darkest alleys and the blackest hours of the city. And the people she finds there will blow your mind. 
Visionary writer and co-founder of My Chemical Romance GERARD WAY (THE UMBRELLA ACADEMY) and artist NICK DERINGTON (CATWOMAN, X-STATIX) unleash the inaugural title in DC's Young Animal imprint with DOOM PATROL VOL. 1: BRICK BY BRICK—a madcap reimagining of one of the most mind-blowing franchises in the DC Universe.
Collects DOOM PATROL #1-6.