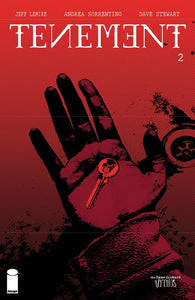 BONE ORCHARD TENEMENT #2 (OF 10) CVR A SORRENTINO
Eisner-winning creative team JEFF LEMIRE & ANDREA SORRENTINO continue the biggest, most essential project yet in the bold and ambitious shared horror universe of THE BONE ORCHARD MYTHOS!

The seven neighbors of TENEMENT seek to answer the question: Who (or what) is "US'UUUL"? Will they find the answer before the unholy terror is already upon them?