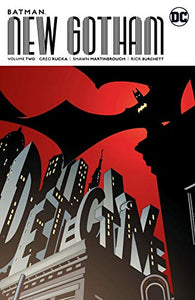 Batman: New Gotham Vol. 2
£2299

£22.99
Tax included.
---
---
Batman: New Gotham Vol. 2 brings you the exciting follow-up to No Man's Land!

 Sasha Bordeaux was hired by the board of Wayne Enterprises as the personal bodyguard to the company's owner, millionaire Bruce Wayne. She's supposed to be offering him round-the-clock protection, but night after night, her infuriating charge gives her the slip. He clearly wants to keep his activities private, but what does a superficial playboy have to hide?

 As Sasha gets closer to discovering Bruce Wayne's double life, she and Batman begin a high-stakes game of cat and mouse. If the bodyguard learns the Dark Knight's identity, can she be trusted to protect it? Or will the whole world learn the truth? 

 Featuring the Mad Hatter, Superman, Two-Face and more, Batman: New Gotham Vol. 2 collects Detective Comics #755-765 and Superman #168, from beloved writer Greg Rucka (Wonder Woman, Batwoman) and artists Shawn Martinbrough (Thief of Thieves), Rick Burchett (Batman Adventures) and more.