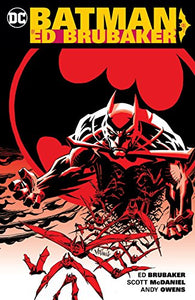 Batman By Ed Brubaker Vol. 2
£1799

£17.99
Tax included.
---
---
Vesper Fairchild, former girlfriend of Bruce Wayne, has been found shot to death in Wayne Manor. Bruce-the police's prime suspect-is immediately taken into custody, awaiting trial for murder. But how can Batman prove his alter ego's innocence if he's stuck behind bars?

As the case unfolds, Bruce Wayne's life and reputation in Gotham are all but destroyed. Batman is left with a choice: cling to his now-shattered civilian life as Bruce Wayne? Or abandon that name completely and embrace his other identity, living solely as Gotham's Dark Knight?

Awarding-winning writer Ed Brubaker (GOTHAM CENTRAL, SLEEPER), along with artists Scott McDaniel (NIGHTWING) and Andy Owens (GREEN ARROW), make the Caped Crusader into Gotham's most wanted fugitive!

Collects BATMAN #598-607.