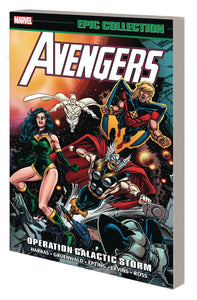 AVENGERS EPIC COLL TP OPERATION GALACTIC STORM NEW PTG
£3999

£39.99
Tax included.
---
---
The Kree/Shi'ar War! When two of the galaxy's most ancient and powerful races clash, it's up to Earth's Mightiest Heroes to play cosmic peacekeepWith Earth in the crossfire, the Avengers are drawn into the conflict - and end up as alien invaders on war-torn worlds of wonder! Assemblers East and West are embroiled in an epic too big for even two Avengers titles - one that will shake the team to its very foundations! Super heroes from
three galaxies clash in a war filled with incredible action - including Thor vs. Gladiator of the Shi'ar Imperial Guard - and the Avengers will face repercussions that will haunt them for years! Collecting AVENGERS (1963) #345-347, AVENGERS WEST COAST (1985) #80-82, QUASAR (1989) #32-34, WONDER MAN (1991) #7-9, IRON MAN (1968) #278-279, THOR (1966) #445-446, CAPTAIN AMERICA (1968) #401; MATERIAL FROM CAPTAIN
AMERICA (1968) #398-400.