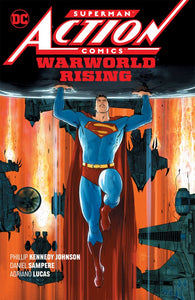 Action Comics Vol. 1: Warworld Rising TP
£1499

£14.99
Tax included.
---
---
A new chapter in Superman's life begins as the challenges of Dark Nights: Death Metal are causing Clark Kent to feel…a change in his powers. Is it possible the Metropolis Marvel could be losing a step?
The Man of Steel's struggles in taking down the creatures from the Breach would suggest as much! If he's going to continue to protect the people of Earth, he'll have to adapt—especially with threats like Mongul out there waiting to launch their biggest attacks on the Earth yet. After a war-torn battleship escapes Warworld and makes the perilous journey to Earth, Superman searches for answers about the identities of its mysterious refugees and their apparent link to the planet Krypton. Could there be other Kryptonians in the universe? Meanwhile, Atlantean scientists study the wreckage of the Warworld vessel…and make a shocking discovery that could change the balance of power on Earth.
Includes Action Comics #1030–1035!