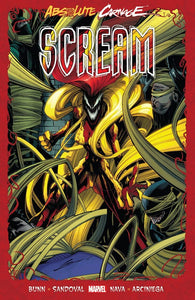 Absolute Carnage: Scream TP
£1499

£14.99
Tax included.
---
---
THE RETURN OF A CLASSIC SYMBIOTE… AND IT'LL BE A SCREAM! 
Years ago, Patricia Robertson was unwillingly bonded to the clone of Venom that eventually became Mania — and she's been living in fear of symbiotes ever since. But she's also been living with a secret — and with the coming of Carnage, she must take a stand. Patricia will have no choice but to confront her demons head-on — by harnessing the power of Scream! She may think she knows symbiotes, but nothing can prepare her for Knull!
PLUS: Since the conclusion of DEADPOOL VS. CARNAGE, four of the five Life Foundation symbiotes — Riot, Phage, Agony and Lasher — have been bonded to a stray dog wandering the Midwest. But as Carnage descends on New York, the siren song of Knull is calling!
Collecting ABSOLUTE CARNAGE: SCREAM #1-3 and ABSOLUTE CARNAGE: SEPARATION ANXIETY #1.