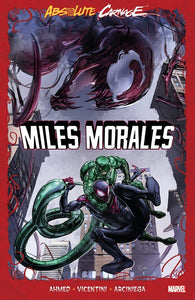 Absolute Carnage: Miles Morales TP
£1499

£14.99
Tax included.
---
---
Is Miles Morales a marked man?
It's business as usual as Miles squares off against Mac Gargan, A.K.A. the Scorpion! But when Carnage's bloodthirsty acolytes swarm New York, Miles learns the hard way that Scorpion has a history with Venom and the other symbiotes of the Marvel Universe! And Miles himself may have a future with them, if Carnage and his dark doppelgangers get their way! If Miles can't fight this, he'd better hope someone shows up who can beat a dark, symbiote-powered Spider-Man!
Plus: Carnage is on a rampage that will connect him to Knull the symbiote god and only Weapon H can stop him!
Collecting: ABSOLUTE CARNAGE: MILES MORALES #1-3 and ABSOLUTE CARNAGE: WEAPON PLUS #1.